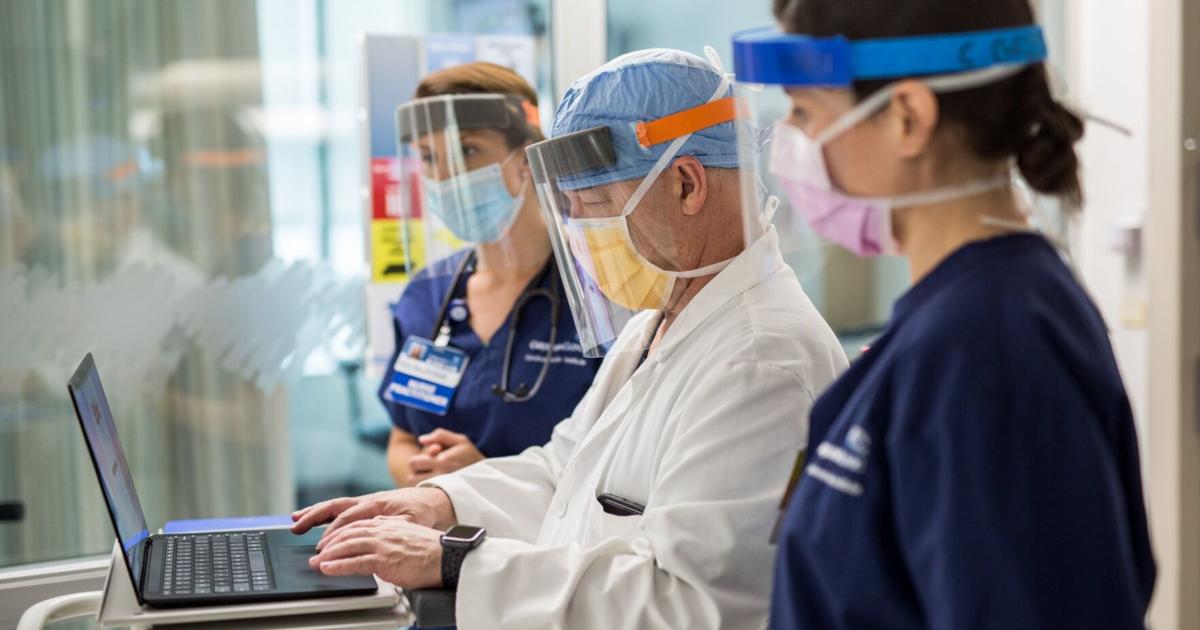 Youngkin Requests Waiver from Federal Vaccination Mandate for Healthcare Workers | Messages
Gov. Glenn Youngkin is seeking an exemption from a federal rule requiring many healthcare workers to be vaccinated against COVID-19.
In a Monday letter, Youngkin, along with West Virginia Gov. Jim Justice, asked the U.S. Centers for Medicare and Medicaid Services for a "limited waiver" that would give Virginia hospitals more flexibility in vaccination requirements for staff.
"This facilitation could take several forms, including broader conscientious objections and flexibility Enforcement or simply a six-month delay of the rule," the letter said. Both governors cited the continued spread of the highly infectious Omicron variant, which is forcing many hospitals to operate under "crisis care standards."
"The biggest concern we continue to hear from our health systems leaders is the upcoming immunization requirement and the impact it will have on staffing levels," they wrote, adding that "the impact is affecting Southwest Virginia and across West Virginia will be particularly acute. "
Federal efforts to mandate COVID-19 vaccinations have been controversial since President Joe Biden first announced them in September. An emergency executive order required large employers to conduct staff-wide immunization or testing programs, and a separate rule required staff-wide immunization — with no testing exceptions — at all health care facilities that accept Medicaid or Medicare funding.
Both Youngkin and Attorney General Jason Miyares announced plans challenge the mandates, which were heard by the Supreme Court two days before the new government took office in January. The court the first order blocked from coming into force last month, but maintained vaccination requirements for healthcare workers.
The letter is Youngkin's latest attempt to appeal federal vaccination mandates, which he openly opposes despite encouraging individual Virginians to get vaccinated against the virus. Most of Virginia's major hospital systems — including Inova, Sentara, VCU, and UVA Health — have already adopted and reported staff-wide immunization requirements a minimal loss of staff. A notable exception was Ballad Health, Southwest Virginia's primary hospital system.
While Youngkin did not directly quote Ballad in the letter, he did pay a visit to the system's flagship hospital in Abingdon on Monday. Macaulay Porter, a spokesman for the governor, did not immediately respond to questions about why the governor felt a waiver was necessary or whether specific health systems prompted the request.
Julian Walker, a spokesman for the Virginia Hospital and Healthcare Association, told the industry group has supported vaccination requirements for healthcare workers. However, given the "diversity" of members of the industry, it is "only natural" for hospitals to take different approaches to vaccination requirements. Staff shortages have been a particular concern, even for health systems that have accepted mandates.
"It is noteworthy that the letter from Gov.Youngkin and Gov. Justice is specifically addressing the staffing challenges faced by many hospitals across the Commonwealth, which have struggled to spin off the Omicron variant amid a record-breaking spike in COVID hospitalizations among many members of the hospital team," Walker said in a statement.
"These staffing challenges are a significant concern for Virginia hospitals, and we appreciate Gov. Youngkin's attention," he added.