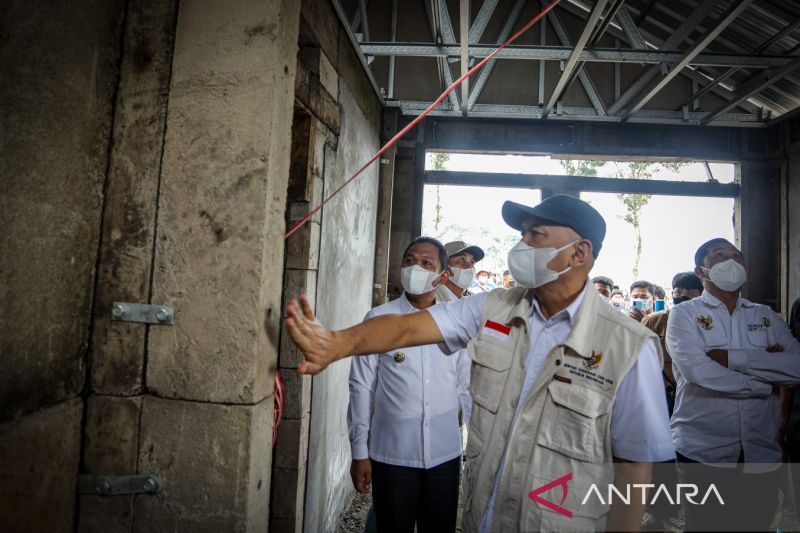 SME ministry supports village project for victims of Mount Semeru
It's a very good concept.
LUMAJANG, E Java (ANTARA) – The Ministry of Cooperatives and Small and Medium-sized Enterprises (SMEs) has announced that it will be involved in the development of a new residential area for Mount Semeru victims as a modern village.
"We will support the business development of the disaster-affected residents with a new cooperative business model," Minister of Cooperatives and SMEs Teten Masduki said during a visit to the construction site of the new residential area in Sumbermujur Village, Candipuro Subdistrict, Lumajang District, Province East Java, on Saturday.
Residential homes and various community business centers will be built on the 79.6-acre site, he noted.
"I reviewed the master plan for the development of the residential area. There will be a micro, small and medium-sized enterprise (MSME) center, a market and an integrated cattle ranch. It's a very good concept," remarked the minister.
The ministry will coordinate with the head of Lumajang District on the business model to make the new settlement an integrated digital village so that items produced in the village can be sold through the online marketplace, he said.
Therefore, MSME actors are encouraged to set up joint cooperatives to easily develop their business, Masduki said.
Related News: Minister calls on staff to carry out paradigm shift in village development
In addition, there is a lot of potential that could be unlocked – not only for products made by disaster-hit residents, but also for products from other regions of Lumajang district, he added.
Minister Masduki also disbursed Rp443,798 million in support to the Lumajang District Government during his visit.
Meanwhile, Thoriqul Haq, district chief of Lumajang, said the cooperative, which can accommodate all MSMEs in the new residential area, will also integrate the region's full potential into an integrated business system.
"I applaud and commend the Ministry of Co-operatives and SMEs for their support to the business development of residents affected by the Mount Semeru eruption," he added.
Related News: Housing for Disaster Victims Follows Smart Village Concept: VP