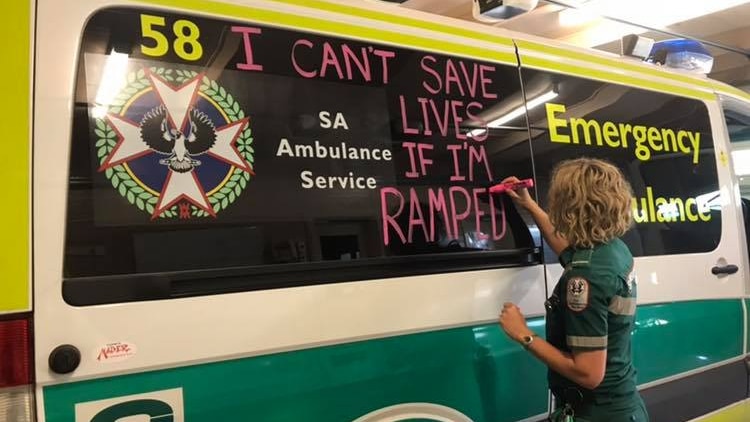 Paramedics dread the day their loved ones need an ambulance when response times are running out
South Australian paramedics say crew shortages are causing deaths and needless suffering.
Core items:
The Ambulance Employees Association will raise its concerns in a parliamentary inquiry today
Paramedics say the emergency medical service is critically underfunded
The government says its resources have been ramped up and is open to changing the funding model
They will tell a parliamentary inquiry today that the emergency services are critically underfunded and overstretched and that they have concerns for the safety of their own families when they need an ambulance.
"It's absolutely devastating and there are people dying out there right now," Ambulance Employees Association (AEA) general secretary Leah Watkins told ABC.
Response times are getting longer, overtime is increasing, paramedics are missing breaks and being contracted for larger portions of their shifts, according to the AEA submission to the Legislative Review Committee on SA Ambulance Service Resourcing.
The AEA said there have been two recent incidents in which patients have died while waiting for an ambulance, with crew shortages becoming more likely in the future.
Paramedic Jim Murchland said he attended an incident where the patient died before he could arrive.
"As far as we could tell, [they] actually drowned in her own vomit while waiting for an ambulance, which I don't think should have happened," he said.
Mr Murchland said ambulances are constantly attending jobs, which means they often cannot get to high-priority cases in a timely manner.
"If the ambulance is out near them…I know no one's going to them."
"Heartbreaking": Dispatchers cannot dispatch much-needed crews
Dispatcher Caitlin McDonald said she's seen ambulance calls and long waits erupt in recent years.
"When I started [there were] two or three jobs on your screen and now [there are] 15 to 20 and all your ambulances are on call, there's no option, there's no wiggle room, there's no fat in the system," she said.
Ms McDonald said staff found it traumatic not being able to dispatch crews to urgent cases.
"It's really hard to continue to watch family members wait and die because of our delays."
The South Australian Ambulance Service said it had just hired more experienced paramedics and was doubling its number of interns in 2022.
"SAAS is working hard to ensure ambulance availability and coverage and additional ambulance shifts have been created to better serve our demand for ambulances," it said in a statement.
The AEA said the main problem is that ambulances – unlike the rest of the healthcare system – are not being funded based on current and projected demand.
"The emergency services have to be funded to do their work. Currently that is not the case," said Ms Watkins.
The state government has funded new paramedics and is deploying student paramedics and other rescue workers to fill gaps during the pandemic.
"The Marshall government addressed these issues by announcing an additional 74 full-time equivalent (FTE) emergency responder positions in last year's state budget. Of these, 50 FTEs have already started on the SAAS rosters and are already making a difference," Health Secretary Stephen Wade said in a statement.
Mr Wade said ambulance resources have been ramped up as part of the government's response to COVID-19.
"We're doubling paramedic intern enrollments in consecutive years and have recruited more triple-0 callers," he said.
"We've also built a stand-by crew of nearly 100 paramedic students to help with non-urgent patient transport, allowing more ambulances to stay on the road and provide the care needed in the community.
Mr Wade said the Government would study the AEA's submission and was open to changing how the ambulance service is funded.
"Marshall's Liberal government remains poised to provide further additional resources to the emergency medical service, along with sensible industry reforms to ensure those resources have maximum impact and industrial action is halted," he said.