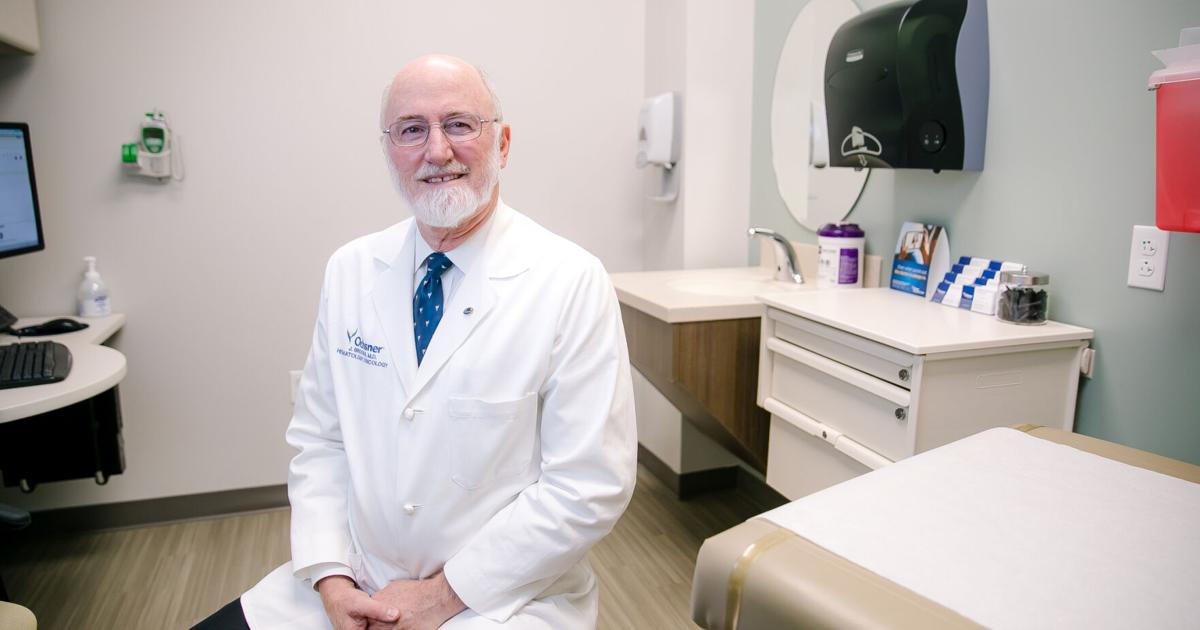 Ochsner Health is a leader in cancer care in Louisiana with sophisticated treatment plans | Sponsored: Ochsner Health
A cancer diagnosis is frightening for patients and their families. But at Ochsner Health, doctors, nurses and support staff help guide families through a personalized care plan while keeping them close to home.
In Baton Rouge, Ochsner has two cancer centers, one on its O'Neal campus off I-12 and a second at the Ochsner Medical Complex – The Grove off I-10 near the Mall of Louisiana, and sees cancer patients at its health Center in Prairieville. However, Ochsner's extensive network of physicians and facilities enables patients to work with cancer specialists in all areas of the country.
"We treat all types of cancer and with the depth of our organization, we treat patients with chemotherapy, immunotherapy, surgery and bone marrow transplants. We also have a very solid childhood cancer program," said Dr. Jay Brooks, Chairman of the Ochsner Division of Hematology/Oncology and Chief of Staff at Ochsner Medical Center Baton Rouge.
"Most people don't think about how much care they need until after they've been diagnosed with cancer, but there are so many other things that patients need besides an oncologist and possibly a cancer-specific specialist," Brooks added. "We are fortunate to have cancer surgery specialists that include colorectal, urological, thoracic, gynecological, surgical oncology, bone marrow transplant, breast, ENT and Mohs skin cancer."
Ochsner also offers support services for cancer patients that address nutrition, pain management, emotional needs, cardiology, palliative care and more. When a suspected cancer diagnosis is made, time is of the essence with the fast access to new patients – which Ochsner has – and the ability to receive additional, connected services.
"Cancer doesn't just affect the individual, it affects the entire family and support system," Brooks said. "When a person comes to us, we ask them to answer questions to focus on what they need from us. This can be financial support, transportation, spiritual support, or something else. They may need to change their diet during treatment and remission to reduce the risk of cancer recurrence. We provide coordinated care that results in expedited treatment."
Brooks said a crucial aspect of treating cancer at Ochsner is ensuring that all team members communicate regularly with each other and with the patient. Thanks to sophisticated electronic medical records, everyone on a patient's care team sees the same notes, test results and observations, meaning treatment is seamless and organized.
"We are very blessed to have a coordinated approach to patient care," Brooks said. "Our use of Epic medical records has really been a game changer. Patients can be treated very quickly and without delay by different specialists. You don't have to walk across town to request copies of your medical records for your next appointment because we already have them. That is the beauty of such a sophisticated system."
Ochsner's use of technology means many visits are conducted virtually or via video calls, reducing patient travel time and allowing loved ones to attend from different locations. Ochsner patients can also access a program called Chemotherapy Care Companion, which includes a digital thermometer, scale, and blood pressure monitor. Vital signs are transmitted daily from a patient's home. If the data falls outside an acceptable range, the care team will receive automatic notifications for review.
In addition, Ochsner has access to more clinical trials than any other healthcare system in Louisiana. Once the patient data is in the electronic system, Ochsner nurses and researchers can check whether this patient is suitable for a research study.
Brooks said the same data is helping Ochsner doctors apply precision medicine to cancer patients. Doctors analyze a patient's genetics and tumor composition to identify potential targeted therapies using this method.
"We wouldn't normally have done that 20 years ago, but now we're doing it throughout our system," Brooks said. "We conduct research to understand the genetics of why people get cancer."
Brooks said that regardless of the type of cancer or treatment plan, Ochsner's team approach and extensive experience set him apart. Physicians from across the system meet regularly to review information about patients before beginning treatment.
"I think when someone comes to Ochsner, there are many people available to review their condition and make a recommendation based on extensive training and expertise," he said. "Together we work as a system to give patients the best possible recommendations."
For more information on Ochsner Health's cancer services, visit www.ochsner.org/services/cancer-care.