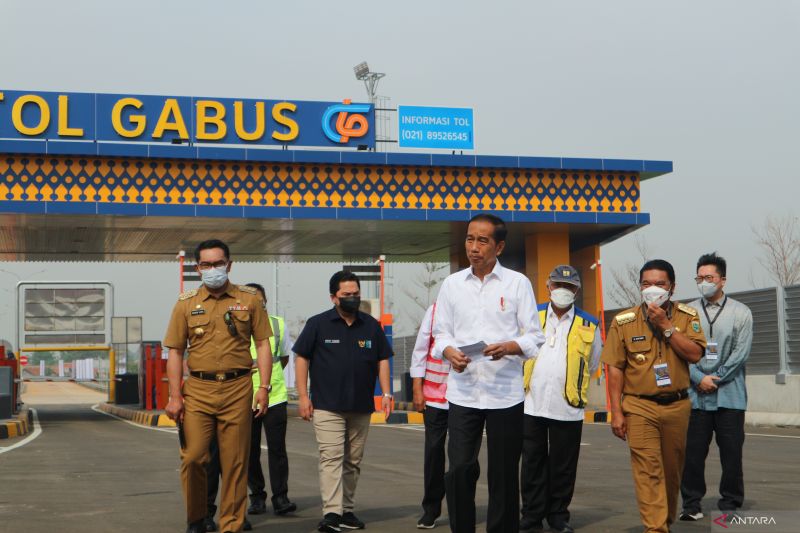 New toll road to speed up industrial access to the port: Jokowi
JAKARTA (ANTARA) — President Joko Widodo (Jokowi) is optimistic that the newly inaugurated Cibitung-Cilinning Toll Road (JTCC) would expedite logistical access from the industrial area to the port of Tanjung Priok.
"Toll Road Cibitung-Cilincing was formerly owned by Waskita, which was later acquired by the state port operator Pelindo. We hope this will provide services for container trucks, exported goods and imported goods in industrial zones and logistics zones," Jokowi said Tuesday at JTCC's Gabus gate in Bekasi district, West Java.
On Tuesday, the head of state inaugurated the JTCC, which is part of Jakarta Outer Ring Road (JORR) 2 and Section 1 of the Serpong-Balaraja Toll Road, which marked the start of construction of JORR 3.
He explained that the JTCC can accelerate the mobility of goods in the region.
"We want to increase the competitiveness of goods. If we don't support our products with good infrastructure, it will be impossible to compete with other countries," added Jokowi.
The JTCC will connect Toll Road Jakarta-Cikampek with Tanjung Priok toll access road and vice versa to support smooth mobility, commuter movement and logistics, especially for Cikarang and Cibitung industrial zones and Tanjung Priok Port.
"I think this will severely affect competitiveness as the industrial zones and logistic zones in Karawang and Bekasi will get facilities to reach the port of Tanjung Priok and vice versa," President Jokowi noted.
Meanwhile, Arif Suhartono, President Director of Pelindo, said that the company's main consideration in participating in the toll road business is to ensure that toll road links to industrial areas and ports are properly covered.
"Cargo from the port of Tanjung Priok, especially containers, which more than 60 percent originate from the east, must reach the industrial and logistics areas on time. This toll road will also reduce the load on the main toll road. This will also make people feel the impact of this toll road development," noted Suhartono.
Next to the toll road, he noted that Pelindo is building a rest area and a logistics park.
"This site has an area of ​​40 hectares, and five hectares are used for the rest area. The remaining 35 hectares will be used for logistic requirements for containers en route to Tanjung Priok port. Second, they can be used for the distribution and logistics center to provide service to the users and the government," he added.
Related News: Cibitung-Cilicing toll project to cost Rp6.5 trillion
The construction of the JTCC started in 2017. This toll road is one of the national strategic projects that will facilitate logistical access from Tanjung Priok port to the industrial areas of east Jakarta and vice versa.
The 34.7 km long JTCC toll road consists of 4 sections: Section 1, Cibitung-Telaga Asih, with a length of 3.03 km; Section 2, Telaga Asih-Gabus, covers 10.1 km; Section 3, Gabus-Tarumajaya, measures 14.35 km; and Section 4, Tarumajaya-Cilicing, with a length of 7.66 km.
Section 1 was commissioned on July 31, 2021, while Sections 2 and 3 will operate immediately after this inauguration and Section 4 is still in the completion phase and is expected to be completed and commissioned in December 2022.
The construction of this toll road is being carried out by Toll Road Business Entity (BUJT) PT. Cibitung Tanjung Priok Port Tollways with a total investment value of around Rp 12.91 trillion and construction cost of Rp 7.48 trillion.
Related News: Section 1 of Cibitung-Cilicing Highway is finished on Saturday