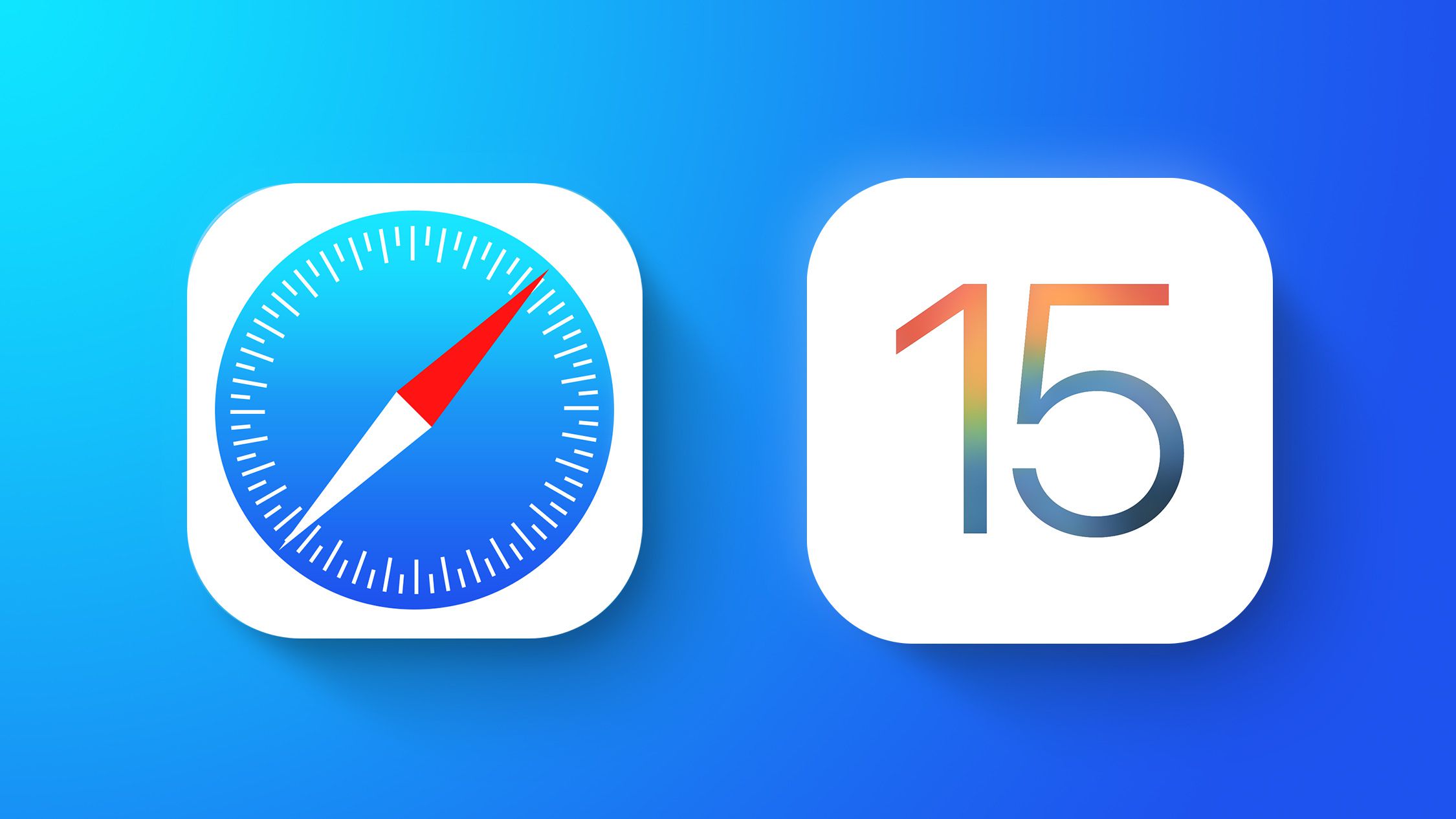 Everything new with Safari in iOS 15: redesign, tab groups, live text, privacy updates and more
Apple's Safari app went through a number of changes during the iOS 15 beta testing process. Apple started with a radically new design that moved the address bar from the top of the app's interface and introduced a floating tab bar.
This guide will walk you through all of the features added in the Safari app for iOS 15, including these new design options.
Design changes
Safari started out with a new floating tab design that moved the address bar and tabs to the bottom of the iPhone interface, but now the design change is optional.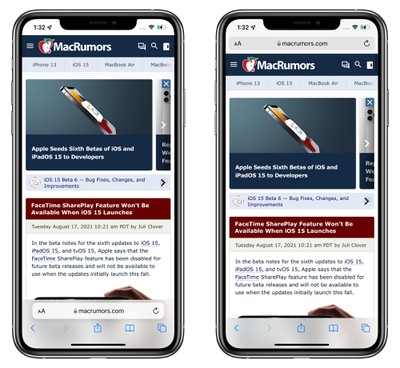 In the Safari section of the Settings app, you can choose your tab view. The "Tab Bar" option moves the address bar to the bottom of the Safari interface, which is the new design.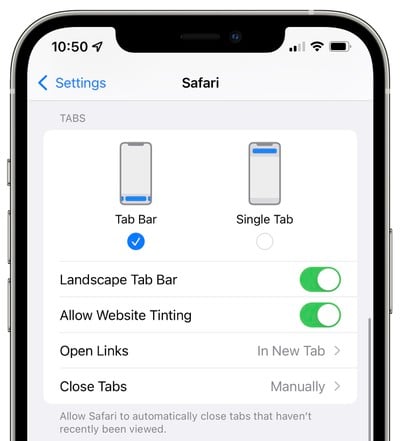 At the bottom of the Safari interface there is a dedicated control bar and an integrated tab and address bar above it. You can swipe left and right to swap tabs, or tap the bar to find or enter a new URL. The dedicated control bar was added in a later beta of "iOS 15" and provides access to forward / backward, sharing tools, bookmark tools, and tabs.
You can go to the webpage settings by tapping the Aa or reload a page by tapping the reload button. This tab bar minimizes the entire tab bar when you scroll through a webpage so that you can see more of the website. You can bring it up again with a tap of your finger.
If you choose Single Tab instead of Tab Bar, the address bar and tabs will stay at the top of the Safari window, just like iOS 14 works. The design of the single tab option is unchanged from the ‌iOS 14‌, with the same control bar at the bottom of the user interface. You cannot swipe through tabs with the single tab user interface, you must use the tab switcher instead.
You can switch between the lower tab bar and the single tab interface by tapping the "Aa" button next to any URL.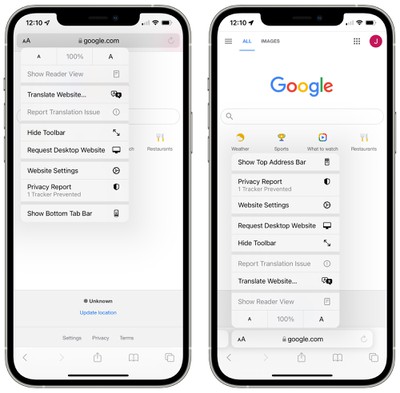 Website tint
The "Allow Website Tinting" option available in the Settings app adapts the minimized surface of the Safari address bar to the colors of the website so that it blends in better with the background.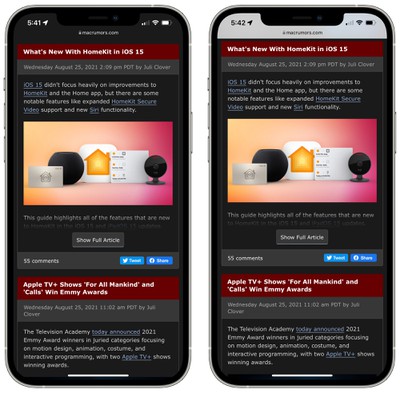 Website tinting enabled on the left, disabled on the right

This only applies if you've scrolled through a web page and minimized the address bar. In both single tab and tab bar mode, the surface above and below adopts the colors of the website, with the colors extending to the status symbols of the iPhone‌.
Landscape tab bar
With the new landscape tab bar setting, when you use your ‌iPhone‌ in landscape with Safari, you'll see a Mac-style tab bar showing all of your open tabs, and you can swipe through it.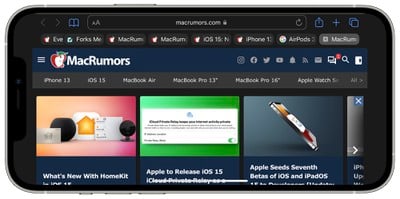 Drag to update
Swiping down on any webpage in iOS 15 will refresh the page, and that's an alternative to tapping the reload icon.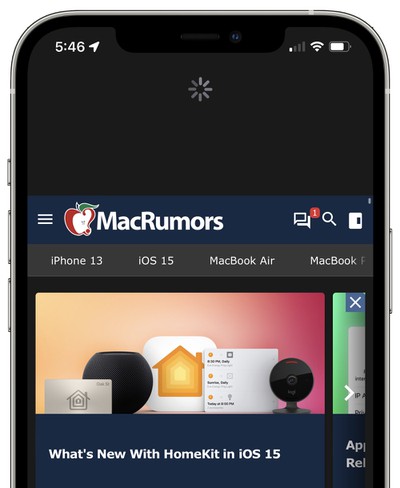 Tab groups
Tabs in "iOS 15" can be stored in tab groups, which provides a way to keep a number of open tabs without those tabs having to be active.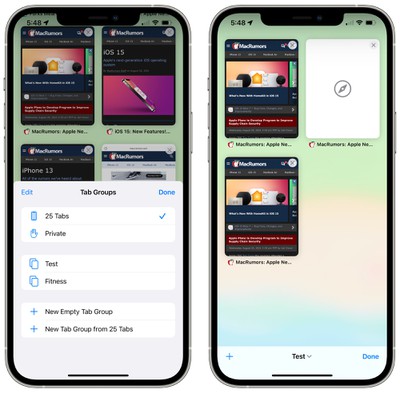 For example, if you're planning a trip, you can save all of your tabs in a Vacation group, access them when you need them, and leave your device free for other content when you're not actively planning. If you have a bunch of websites that you always open for work, you can save them in a special group of tabs.
To create a tab group, just open all of the websites you want to include, tap the Tabs button with the down arrow, then tap New Tab Group From [#] Tabs. You can also use this option to create a new blank tab group to which tabs can be added later. Long-press an open tab (or the main address bar if you enabled single tab view) to add it to a tab group.
To load a tab group, tap the Tabs button and then tap the group name in the list. All of your tab groups are synced across your devices, so you can access them on iPhones and iPads with iOS and iPadOS 15, and Macs with macOS Monterey.
Overview grid tab
In iOS 14‌, all of your open tabs are shown in a card-like interface that you can swipe through, but in ‌iOS 15‌, open tabs are shown in a grid view.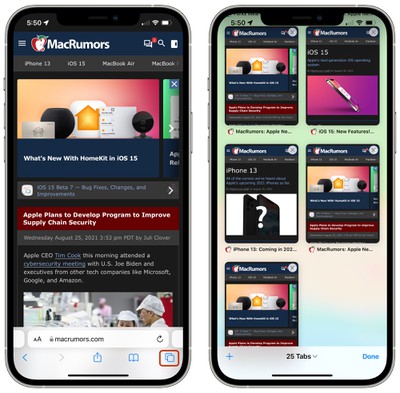 You can tap the tab button (which is made up of two overlapping squares) to bring up the grid interface, which shows all of your open tabs. Tapping the "X" in the corner of any tab will close it.
Customizable homepage
Safari is more customizable in iOS 15, and you can edit what's available on your home page. This is a feature that was available on macOS but is now also available on iOS devices.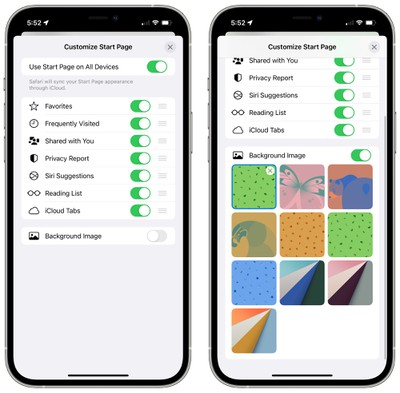 To customize the home page, open a new, blank tab, scroll all the way to the bottom of the window, and tap the "Edit" button.
You can choose to show favorites, frequently visited sites, content shared with you, privacy report information, Siri suggestions, reading list, and iCloud tabs on the home screen.
There's an option to have the same home page look and feel across all devices and a toggle to upload the wallpaper of your choice.
Intelligent Tracking Prevention improvements
With the updates to Intelligent Tracking Prevention, the feature that prevents websites from tracking your web activity, trackers are now prevented from accessing your IP address to create a profile about you.
HTTPS upgrade
Safari in iOS 15‌ automatically updates websites known to support HTTPS from HTTP, which is insecure.
ICloud private relay
‌ICloud‌ Private Relay is a data protection feature that ensures that all Safari traffic is encrypted.
As explained in our privacy guide, ‌iCloud‌ Private Relay protects your IP address and separates it from the websites you visit by using two separate internet relays.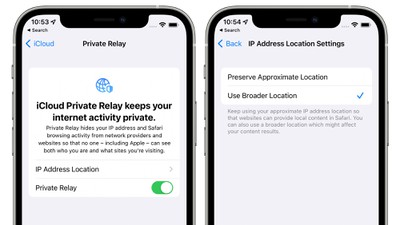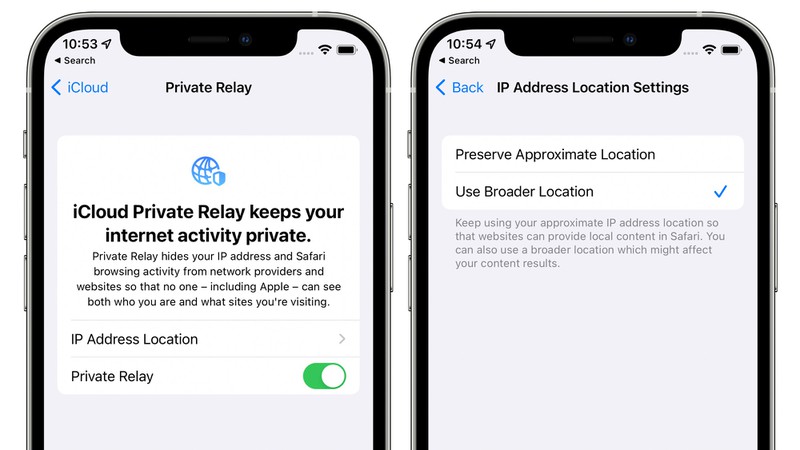 ‌ICloud‌ Private Relay sends all web traffic to a server managed by Apple, where information like the IP address is removed. Once the information is removed, the traffic (your DNS request) is sent to a secondary server managed by a third party where it is assigned a temporary IP address, and then the traffic is forwarded to its destination.
Through a two-step process that involves both an Apple server and a third-party server, ‌‌iCloud‌‌ Private Relay prevents anyone, including Apple, from identifying a user and associating them with the website the user is visiting.
With this system, Apple knows your IP address and the third party knows the site you are visiting. Because the information is unlinked, neither Apple nor its affiliate company will have a complete picture of the site and location you are visiting and the website you are visiting. Normally, websites have access to this data and can use it together with cookies to create a profile of your preferences.
Web extensions
Safari in ‌iOS 15‌ supports web extensions, and web extensions can be downloaded and installed from the App Store. Extensions available include content blockers, VPNs, and more.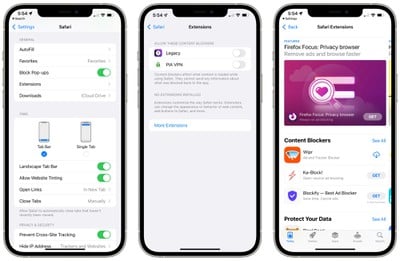 Live text
With iOS 15, iPhones and iPads can use a new Live Text feature to recognize text in any picture, including pictures you find in Safari.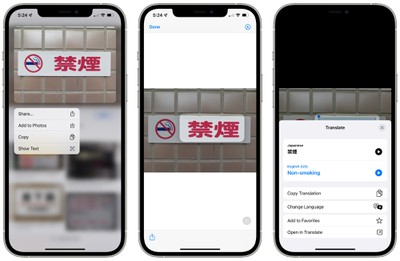 Any Safari image that contains text can be selected, copied, pasted, and translated. To use live text in Safari, long-press any image, then tap "Show Text". From there you can select the text and interact with it like any other text on an ‌iPhone‌.
Shared with you
Shared with you, a new option available on the Safari homepage consolidates all of the links sent to you in the Messages app and other social networking apps that support the Shared With You feature.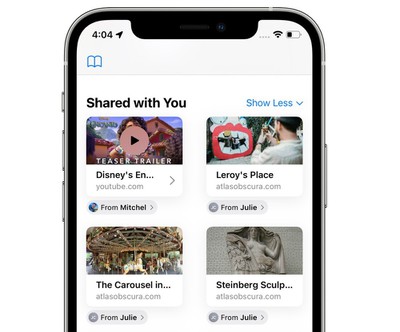 This new section is designed to make sure you don't miss any links that have been sent to you and to let you know who sent you a link so that you can return to them with your thoughts.
Guide feedback
Do you have any questions about the new Safari changes in ‌iOS 15‌, do you know a feature we left out, or would you like to provide feedback on this guide? Send us an email here.