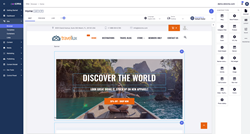 dotCMS introduces major updates to the content authoring experience
"The content authoring experience was a key focus for dotCMS," said Will Ezell, CTO of dotCMS. "These new features lay the foundation for collaborative content editing, which is the holy grail of our journey."

MIAMI (PRWEB)
June 30, 2022
dotCMS, a leading hybrid headless content management system, has announced the latest edition of the platform, which includes a new drag-and-drop content palette and story-like block editor, as well as other enhancements to the content authoring contains experience. These product updates follow dotCMS' best year yet in 2021, with this momentum driving an even better 2022 for the enterprise-class CMS.
Business organizations are embracing the notion of MACH architecture and composability. While a headless architecture based on microservices brings many advantages and allows developers a lot of freedom, brands cannot ignore the needs of their content authors, which are often forgotten when moving to headless.
The new dotCMS content palette with drag-and-drop eases page creation and improves the flow of content editing. additionally latest LTS version of dotCMS (22.03) features a JSON-based content store and improved content search results.
With dotCMS 22.05 and 22.06, a major new block editor is introduced. Inspired by interfaces like WordPress' Gutenberg editor, the dotCMS block editor is an easy-to-use, feature-rich interface for creating and editing content – whether text, images, or other custom content defined by dotCMS. The dotCMS Block Editor can be used headless or on traditional sites.
"The content authoring experience was a key focus for dotCMS," said Will Ezell, CTO of dotCMS. "These new features lay the foundation for collaborative content editing, which is the holy grail of our journey."
Other agile enhancements to the product include a secure password generator, rule-based URL rewrites, and support for headless widgets. Future releases will include simple copying of content types and page-based experiments for testing and personalization. In the coming weeks, dotCMS will release a new public roadmap based on extensive customer feedback that will guide product development and help companies plan their digital strategies.
ABOUT dotCMS
dotCMS is the most agile, scalable and secure content management system for companies. Built on leading Java technology, dotCMS is an open-source hybrid headless content management system that gives developers the flexibility of a headless CMS and allows marketers to create visual content without code. Whether you're building a network of global websites, an employee intranet, a customer portal, or a single-page web application, dotCMS helps you manage content, images, and assets in one place and deliver them to any channel.
Founded in 2003, dotCMS is a privately held US company with a global network of certified development partners and an active open source community. dotCMS has generated millions of downloads and more than 100,000 implementations and integration projects worldwide. Notable clients include: Telus, Standard & Poor's, Hospital Corporation of America, Royal Bank of Canada, Comcast, Thomson Reuters, Dairy Queen, City Furniture, Varo Bank, Lennox International, Firstmac and Newell Brands.

Share the article on social media or via email: